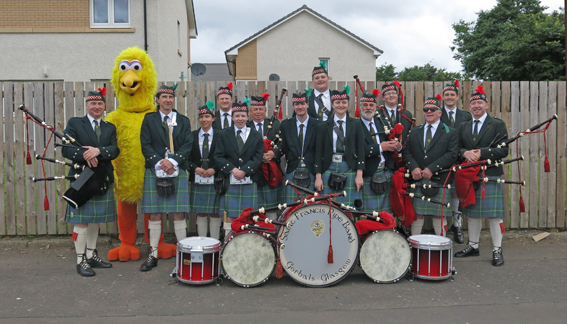 For the first time since 1986 the band made its reappearance at the Whitburn Family Gala on 28th June.
A few hardy members of the band recall very well our last visit and the return revealed that the fettle of this particular gala day seems to be very assured. A diverse range of musical accompaniment to an imaginatively arrayed series of floats and superhero groups created the wonderful spectacle that ended up in the park for more music and entertainment.
For us it was an early start, a lengthy parade, it rained a bit and there was a bit of hanging aroud but overall it was a great opportunity to participate in one of the best organised and friendliest events of the year, so far!
Also today marked the debut appearance of Hannah Hughes on Tenor drum. She wasn't the only new recruit today as can be seen from the photograph however we reckon Hannah is a much more complimentary addition to the band than that big burd. I reckon it will be too chicken to follow through on any commitment to the band!